I must admit I skimmed over Turkish history in my youth. But I had wanted to visit Istanbul (formerly Constantinople) ever since I was aware of its existence. The city had an aura of mystery and mixed influences. It was the setting for James Bond films.   Today the nation is supposed to be a secular state, and oddly enough, when we visited it October 25-29th, Turkey was celebrating its 100th year anniversary as a Republic. Mustafa Kemal Atatürk, or Mustafa Kemal Pasha until 1921, was a Turkish field marshal, statesman, author, and founder of the Republic of Turkey, serving as its first president from 1923 until his death in 1938 (basic facts courtesy Turkey: Eyewitness Travel Guides & Wikipedia).
Distinguishing himself in the Battle of Gallipoli, Atatürk championed the Turkish War of Independence. The Ottoman Sultanate was abolished in 1922, ending 623 years of authoritarian rule. Mustafa Kemal also instituted a number of "radical" reforms, abolishing the Ottoman fez, granting full political rights to women, and a writing system for Turkish based on the Latin  alphabet (not Arabic). The Turkish parliament presented Mustafa Kemal with the honorific surname "Atatürk" (Father of the Turks) in 1934 (https://en.wikipedia.org/wiki/History_of_Turkey).  His image is pervasive in Istanbul on huge banners and signs accompanying the nation's Crescent Moon flag.
Attaturk personifies an ideal.  A recent editorial in Euronews suggests that despite Turkey's numerous challenges — among them an authoritarian leader whose party AKP, has held power for 21 years –"Turkey is a republic of cautious optimism, and as long as this optimism and enthusiasm endure, there is hope for a fully democratic future." (https://www.euronews.com/2023/11/10/was-turkeys-ataturk-an-authoritarian-leader-or-a-visionary-european)
The modern city seems to me a strange mix of promises, spice
bazaars, and spectacular double-knotted carpets. 
Istanbul was once the glory of the Eastern Roman Empire, but today, though it's supposed to be secular (and yes, many of the residences, apartments and malls along the Bosphorus connecting European Istanbul with the Asian side are stunning, white-washed, and modern) the city's dominant architectural/religious imprint is all mosques and minarets. 
Haghia Sophia (pictured above, first image) is the church turned mosque turned museum and back to mosque again. The Blue Mosque (also known as Sultanahmet), built between 1609 and 1616 AD is named not for its spectacular blue dome but for the colorful blue Iznik tiles within. The main prayer halls (called the muṣallá (Arabic: مُصَلَّى), are lit with sweeping, low-slung chandeliers.
The plans of the imperial architect Mehmet Aga, who designed six minarets for the mosque adorning the central prayer hall and courtyard, provoked great hostility among locals.  Six was considered a sacrilegious attempt to rival the great edifice of Mecca.
In any case, being no expert, I revert to my photographs.  But the one outstanding thing that sticks in my mind is how every tour guide I spoke with voiced frustration about the Turkish economy, its high prices and soaring inflation rate,the influx of Syrian migrants and the plight of working folks under the government of Recep Tayyip Erdoğan, a conservative politician who favors building mosques over spending on social welfare.
Erdogan assumed Turkey's prime minister's role in 2003 and was the nation's  first elected president in 2015, and he's remained in office ever since.  He's been criticized for suppressing dissent, weakening the power of the Central Bank, and transforming Turkey's parliamentary system into a presidential system with expanded executive powers and two five-year term limits (this started in 2018; Erdogan can go for another five years).  The government has, for better or worse, allowed Turkey to become the world's largest refugee hosting country since 2014 (a direct result of Syria's civil war), producing widespread discomfort  in the capital. 
Below:  Turkish president Recep Tayyip Erdogan talks to members of the media in Istanbul, April 2017; a poster of The Republic's Founder, Mustafa Kemal "Attaturk" is in the background.  AP Photo/Lefteris Pitarakis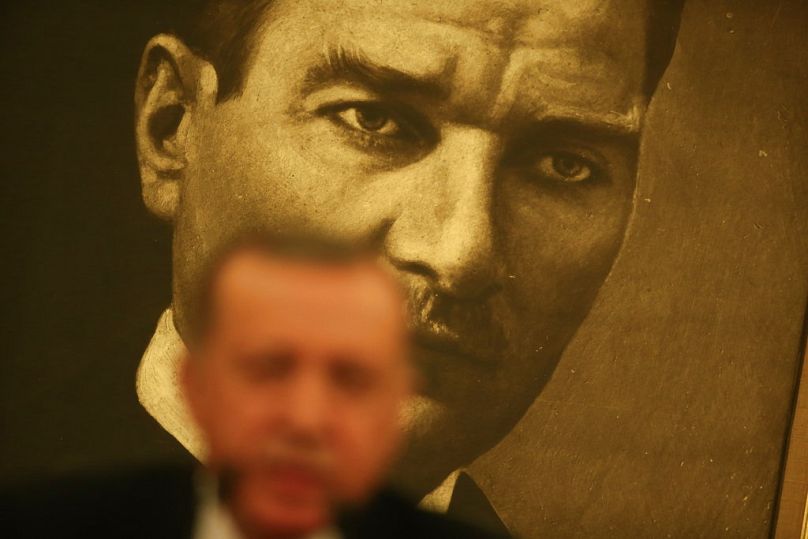 To his credit, though, Erdogan launched operations opposing the Islamic State and Syria's Assad forces. He also responded to the 2022 Russian invasion of Ukraine by closing the Bosphorus to Russian naval reinforcements and brokering a deal with Russia to allow Ukraine to export its grain.  Today, in the midst of a horrendous Hamas-Israeli war, Erdogan offered Turkey's aid to rebuild Gaza if/when a cease fire can be achieved.
Istanbul in a Whirlwind
Our whirlwind tour of Istanbul began only two days before our cruise. We met up with Alev, a brilliantly
informed woman who took us around "Essential Istanbul" :  the mosques, Roman Hippodrome, a stadium for chariots and other events, planned in 3rd century B.C., at one time accommodating 100,000 people; it was the city's focus for 1000 years before falling into ruin.  We went to Topkapi place, a sprawling complex of multiple pavilions built in the 15th century by Ottoman Mehmet II, principally as a residence, but also as a school for civil servants. 
The small museums in Topkapi featured a lot of fabulous Ottoman wealth — helmets, swords, Sultan's robes, the works.  And we visited the Grand Bazaar.  The next day we boarded our Viking ship and took a tour around the incredible walls built by Constantine, adding a quick visit to a lesser known mosque,  Rustem Pasha, which was just as lovely as Blue Mosque and all the others.  Finally, a boat tour of the Bosphorus.  And then onto Troy.
I can only tell you the city is gorgeous and worth visiting.  It's a Muslim-dominated city despite its secular claims.  We were not there long enough to absorb the fevers and temptations of the people.  But at least, it was a start.  More on the "Rage of Achilles" and the finds at Troy in my next post.